20 Books Worth Reading If You Have A Child On The Autistic Spectrum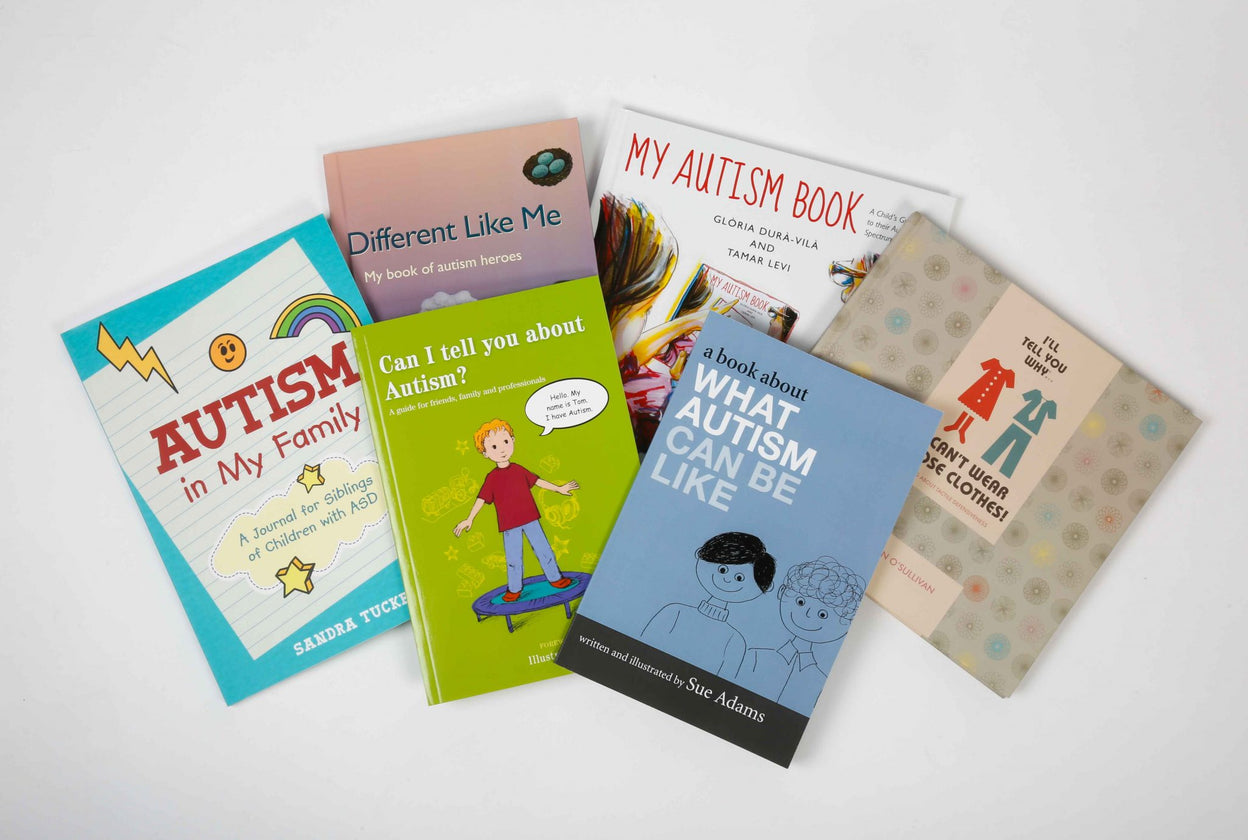 When it comes to communicating with your child on the autistic spectrum it can often be a difficult and frustrating task for both of you. So, here are some books for understanding autism together.
One parent found books were the perfect communication tool for her daughter.
Meta Auden, former owner of Spectra Sensory Clothing ( no Adaptive Clothing UK ) was so convinced by the power of books she added them to her online shop for other parents.

"My daughter is 19, and never spoke much, never tried to tell me how she was feeling and didn't have facial expressions to show me" explained Meta.
"When she was being told off she would smirk and it took me a while to realise that she wasn't being disrespectful.
"Like many other children Kirsty would have had meltdowns and she would have gone up to her room and start banging her head off the wall, which of course meant we rushed upstairs to try to calm her.  
"It was following a conversation with Kirsty recently where she revealed she would do it out of frustration because people didn't understand how she felt, including us – her parents.
"But she doesn't do it anymore. She says it's because we now understand better what's going on with her and I 100% credit the books with that."
Meta started stocking books at Spectra Sensory due to her own love of reading and the realisation that if they could help her understand her daughter better then they could help other parents who would regularly use the website.
"Throughout her teens Kirsty would use books and newspaper articles to help me understand how she felt" said Meta.

"I've now brought in many titles covering all areas from toilet training to autism in adults. My favourites are mostly the children's books. 
"I brought in one called 'All cats have Asperger's' because Kirsty loves cats. When it arrived, I thought it was too young for her, but I gave it to her and she thought it would be great for younger children, probably aged seven upwards because it explains how children feel.
We
 

LOVE

 

♥

 

Books For Understanding Autism

"One of my customers told me that her father had bought it for his grandson, who had taken it into the school to read to the rest of his class, to help them understand. 

"Another book I really like is 'I will tell you why I won't wear those clothes'. Oh, how I wish I had that book when Kirsty was growing up, especially before her diagnosis as clothing was a bit of a battleground for us before her diagnosis and ultimately the reason I set up the business.

"My final personal recommendation is 'Teaching social skills through Minecraft'. If they did degrees in Minecraft, my daughter would have got a first."
Here are 20 Books Meta stocks that could help you and your child:


1. Older Adults and Autism Spectrum Conditions
By Wenn Lawson
Packed with practical advice, this is the first book to address the challenges facing older people with autism. With first-hand stories and drawing on the latest research, it will help to support older adults with autism through lifestyle changes as well as physical and sensory challenges post-retirement. 
2. I'll Tell You Why I Can't Wear Those Clothes! 
By Noreen O'Sullivan
This full-colour, photographic workbook is designed for adults and children to read together and explains the physical reasons a child may become emotionally overwhelmed by some daily routines involving touch. The workbook format allows them to explore their own feelings about their touch-related sensitivities, helping them to feel supported. 
3. My Social Stories Book 
By Carol Gray and Abbie Leigh White
Taking the form of short narratives, the book takes children step by step through basic activities such as brushing their teeth, taking a bath and getting used to new clothes. 
It also helps children to understand different experiences such as going to school, shopping and visiting the doctor. 
These stories are written for pre-schoolers aged from two to six, and the book is a useful primer for all young children – but most especially those on the autism spectrum. My Social Stories Book contains over 150 Stories, and is illustrated throughout with line drawings by Sean McAndrew, which form a visual counterpart to the text. A helpful introduction explains to parents and carers how to get the most out of the book.
4. I'm Not Naughty- I'm Autistic- Jodi's Journey 
By Jean Shaw
At eighteen months old, Jodi Shaw suddenly changed from being a happy, lively, loving baby into the toddler from hell – withdrawn, refusing to talk, play or be touched, unable to concentrate or be still. Written by his mother but told from Jodi's perspective, this is a fascinating, funny, and insightful account of growing up with autism. 
Jean Shaw, the mother of two children, is a housewife and full time carer. She hopes that the story of her autistic son will reassure and help many other ordinary families and also educate the general public about the problems associated with autism.
5. Managing Meltdowns and Tantrums on the Autism Spectrum – A Parent and Caregiver's Guide 
By Jenna Ward Hawkes And Melissa Rodi 
Provides helpful and practical tips to understand, manage and even avert tantrums and meltdowns. For parents of children with ASD (and other conditions) aged 2-9, who need advice on managing meltdowns. 
This book offers an empathetic approach and provides explanations of what goes on in the brain and body of someone experiencing a meltdown, describing sensory reactions and brain processes. The authors help the reader to distinguish between tantrums and meltdowns, and how to react to these different emotional states. 
6. All Cats Have Asperger Syndrome
By Kathy Hoopmann 
This book takes a playful look at Asperger Syndrome, drawing inspiration from the feline world. Touching, humorous and insightful. This book evokes the difficulties and joys of raising a child who is different and leaves the reader with a sense of the dignity, individuality, and potential of people with AS.
7. Can't Eat, Won't Eat – Dietary Difficulties and Autistic Spectrum Disorders 
By Brenda Legge 
Reassures other parents that there are lots of people out there in the same boat, and to suggest practical methods of dealing with the problem. As well as drawing on her own experience, the author has spoken to parents, children, and professionals with first-hand knowledge of dietary difficulties, and their advice and comments form a key part of the book.
8. Special Kid to Super Kid- Overcoming Learning Disability, Language Delay, And Autism 
By Ruthangela Bernadette
This book promises to help you unleash your child's super powers. Discover how the author triumphed over autism, learning  disability, and language delay without breaking the bank. The book promises that your child will Improve social interaction, make friends and gain confidence. Transform school from being a battleground of obstacles into a playground of opportunities.
9. The Little Book of Autism FAQS – How to Talk with Your Child about their diagnosis & Other Conversations 
By Davida Hartman
Concise and easy to read, 'The Little Book of Autism FAQs' answers parents' questions with accessible language, preparing them to approach this difficult conversation in a constructive manner. It equips parents with a language of positivity and prepares them to support their children's relationships with peers and family members.
10. A Book About What Autism Can BE Like
By Sue Adams
Chris and Andrew are here to help people understand the experiences of a child with autism, and how others can help by understanding how they are different, and recognising their unique talents. 
This fully-illustrated book is targeted at boys and girls aged 5+, and also serves as an excellent starting point for family and classroom discussions.
11. A Friend Like Ben
By Julia Romp
This really is a heart warming book, one which many parents will relate to. I was told to read it by my daughter, it is not often, in fact probably never, that she has given me a book to read, yes, youtube videos or quotes. So I asked her to give me a review of the book, at first she said no, then she gave me a few words, which I am writing as they were given to me, so excuse spellings and grammar.
 "This book is told by the boy's mother, but it shows how one animal helped her understand her son. In a way she could not be able to. It opened her eyes to what she needed to see instead of what she wanted to see."
12. Autism All-Stars
By Josie Santomauro
Contributors from across the world share their experiences of creating a successful life on the autism spectrum. The positive and inspiring voices in this book explain how it is possible to draw on autistic strengths not just to make your way in the world, overcoming challenges and obstacles, but also to make your life a real success.
13. Autism Mother Speaks Out
By Maggi Golding & Jill Stacey
From America to Australia, and stopping off in every continent in between, these stories from mothers of autistic children highlight changing attitudes to autism. Debunking the myth that autism is a result of bad parenting, this book radiates with the warmth of parent-child relationships and unites autism families across the globe.
14.

 

Can I Tell You About Autism
By Jude Welton
Tom invites readers to learn about autism from his perspective in this beautifully-illustrated book, suitable for readers aged 7 and upwards. He explains the challenges he faces with issues such as social communication, sensory overload and changes in his routine and describes all the ways he can be helped and supported by those around him.
15. Different Like Me, My Book of Autism Heroes
By Jennifer Elder 
Eight-year-old Quinn, a young boy with AS, tells young readers about the achievements and characteristics of his autism heroes, from Albert Einstein, to Lewis Carroll, Benjamin Banneker and Julia Bowman Robinson, among others. All excel in different fields, but are united by the fact that they often found it difficult to fit in-just like Quinn. 
16. Stand Up For Autism
By Georgina J.Derbyshire 
Parenting a child on the autistic spectrum can be tough, but few books take the time to celebrate the love and laughter an autistic child can elicit in their parents and those around them. In this warm, honest and laugh-out-loud tale of bringing up Bobby, now ten, Georgina Derbyshire shares and rejoices in his 'slightly different' childhood.
17. Teaching Social Skills to Children With Autism Using Minecraft
By Raelene Dundon
An accessible guide to setting up Minecraft groups to promote social skills in children with autism. It has over 150 pages of session plans, visuals and handouts, as well as setting out a curriculum for educators and professionals to use in the classroom.
18. Toilet Training and The Autism Spectrum
By Eve Fleming and Lorraine MacAlister
This book looks at toilet training difficulties for children with autism spectrum conditions, and presents practical interventions to help children overcome these problems. Packed with essential information on bowel and bladder function, this book also gives helpful advice for developing and implementing a toilet plan in different settings.
19. People With Autism Behaving Very Badly
By John Clements
This book offers effective, long-term strategies to resolve common problem behaviours such as physical aggression, self-injury, verbal abuse, and property damage. It is organized around common messages conveyed by behaviours and the underlying issues driving these messages. Practical ideas for intervention are provided alongside case examples.
20. The Autism Discussion Page On The Core Challenges of Autism
By Bill Nason
This book compiles posts from the popular online Autism Discussion Page to provide simple and effective strategies for helping children with autism spectrum disorders to feel safe, accepted and competent. This volume focuses on the core challenges faced by those with autism: cognitive, sensory, social and emotional.
 Originally written by Meta Auden